THE WORLD'S FIRST AR COMBAT GAME
Reality Clash is an exciting and innovative augmented reality FPS combat game available on iOS and Android, which is also free to play and has Ethereum based NFTs.
Set in an underground world of cryptocurrency and hackers, the game combines geo-location gaming and multiplayer first-person shooter battles to provide a unique player experience.
Players step through an augmented reality portal and enter a virtual battlefield in which they can challenge their friends to real-time combat. Win resources and glory for your team or make a name for yourself in this new genre of gaming.
Challenge your friends or fight bots in full AR combat. Step through the Portal and enter a virtual battlefield known as 'The Sim' where your movement, reactions and strategy are crucial to your success.
Navigate a 3D map to defend key parts of your city, mine for resources, build or customise unique guns and, most importantly, defeat your friends in this first-of-a-kind AR shooter.
GAME FEATURES
Augmented Reality Combat
When engaging in combat or weapon training, players enter an augmented reality Portal. The Portal allows players to fight in an immersive virtual world known as 'The Sim' with persistent objects such as barricades which can be used for defence. This kind of AR gameplay has never been seen before and is a truly innovative experience.
Nodes
Key locations where major missions take place and teams compete for control so they can mine at the location and receive resources. These locations are patrolled by bots ensuring you can always play against an enemy.
Mining
Players can mine for Resources at Nodes which have been taken over by their team. These Resources can then be used to build powerful weapons.
Silver
In-game currency purchased from mobile app stores or earned through gameplay. Can be spent on non-tradable weapons, additional add-ons and boosting certain actions.
SafeZones
Locations where combat is restricted and players regain health automatically. These are physical locations, such as coffee shops or retail locations, which will be able to offer real-world incentives and in-game rewards to players.
Blueprints
In-game items that, when combined together with resources and Silver, will allow the player to unlock and build new weapons.
Missions
Objective based activities which players can undertake to increase their level, earn in-game items or compete with rival players.
3D Map
Players can use the detailed 3D map to search for SafeZones, Nodes, friends and enemies.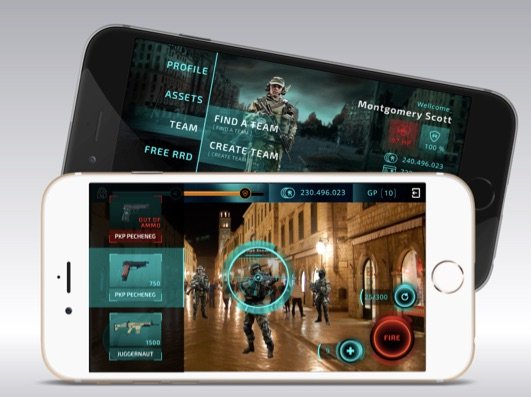 CONNECT